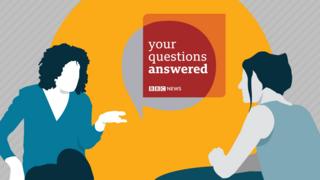 Children are returning to school throughout the UK, many of them for the first time since lockdown in March.
Here are some of your questions about the challenges ahead.
Questions and answers
Back to school
Your questions
Is it a good idea to send kids back to school if they have a heart problem? from Zoe Corran in Bangor

People who have a serious heart condition are more vulnerable to coronavirus.

Many children with heart conditions will, until recently, have been shielding to protect themselves. Experts are now looking into whether as many children will need to shield in the future, given the reduced level of risk posed to children.

Across the UK, children who have been shielding are expected to return to school.

However, if a child has an extremely serious condition, your doctor can advice otherwise and parents should engage with the child's school about the best way to continue their studies.

If there is an increase in cases in an area and a local lockdown is enforced, it is important to check what that means for children with health conditions who are allowed to return to school.

Return to school is mandatory from next week in England, but what happens for the children who are in quarantine due to travel to France? from Erica in Henley-on-Thames

Government guidance says that if you are arriving into the UK from a non-exempt country, you must self-isolsate for 14-days.

This means you cannot go to school, work or any public places (except in some very limited circumstances).

The government makes clear that parents should consider this when booking or going on holiday.

However, if you are quarantining it would be considered as following public health guidance and would therefore make it unlikely you would be fined for missing school.

I am a deaf teacher of the deaf, and I also have a deaf daughter, and I am extremely concerned about how the 50,000 deaf children in schools across the UK will be able to access education if masks are worn in schools, as they will be unable to lip read from Andrea

Secondary school pupils in Scotland, Northern Ireland and those areas of England in local lockdown will have to wear face coverings in communal areas from 31 August (1 September in England). Headteachers in any secondary school in England will also have the discretion to introduce them.

The widespread adoption of face coverings has been a cause of worry to deaf people. Ian Noon of the National Deaf Children's Society has warned of loneliness and isolation being "a tragic result" of their introduction, if schools and colleges can't meet deaf pupils' needs.

The government stresses that face coverings will not be used during lessons. The Department for Education (DfE) says, "Face coverings can have a negative impact on learning and teaching and so their use in the classroom should be avoided."

In its guidelines, the DfE also says people should be exempt from wearing face coverings if they are communicating with anyone "who relies on lip reading, clear sound or facial expression to communicate", adding, "we would expect teachers and other staff to be sensitive to those needs".

Would it be a good idea for random Covid testing to take place in schools? from Deanna

The question of whether pupils and teachers should be tested for Covid remains a matter of debate among politicians and scientists.

In a report for the Royal Society's Delve initiative, scientific researchers called for regular testing of teachers and secondary school pupils, whether or not they were showing symptoms of the virus.

The children's commissioner for England, Anne Longfield, has also called for weekly tests for staff and pupils.

However, other scientists have questioned whether regular testing would have much point in areas where infection rates are low. The schools minister Nick Gibb has said the government has no plans for general testing in schools: "The advice that we have is that it's better to test when people actually show symptoms."

I know it's a long way off but those children that have been off school for 6 months yet are due to take exams next summer, I think will have the largest negative impact. Is this is going to be looked at at all? from Lisa

It's very likely that next year's students will be impacted by this year's results.

Currently, the assumption is that students will sit exams in 2021.

However, there have been some adaptations made to assessments and content. For example, students will be allowed to drop certain subjects to make it easier for teachers to cover the whole course.

The government has not said whether they will adapt grading next year to ensure that they are more in line with the teacher's estimated grades awarded this year.

If repeatedly touching a mask can render it ineffectual and more likely to transfer infection, how will this work with school children taking masks on and off during the school day? from June

Schools have been issued guidance on how to ensure face coverings are removed safely.

Pupils are to be instructed by staff not to touch the front of their face covering during use or when removing it.

They are also encouraged to wash or sanitise their hands after removing masks.

If pupils have disposable masks, they should put them in a covered bin or if they have reusable masks they should be stored in a plastic bag until they are reused.
End of Back to school
What do I need to know about the coronavirus?
---
What questions do you have about coronavirus? Do you want to ask it on BBC News? Get in touch and we may ask you to send us a video of you asking your question.
In some cases, your question will be published, displaying your name, age and location as you provide it, unless you state otherwise. Your contact details will never be published. Please ensure you have read our terms & conditions and privacy policy.
Use this form to ask your question: